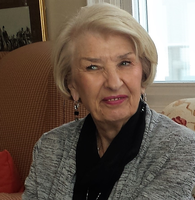 Sherron Bradbury
After a courageous battle with cancer, our dear friend Sherron Bradbury passed away Tuesday, January 1, 2019 at Ian Anderson Cancer Hospice. Sherron was the daughter of the late Leigh and Winnifred Bradbury.
Sherron was fiercely independent, living life resolutely on her own terms. She knew her own mind and what she wanted including her final exit. She was determined to enjoy the time she had left while bravely accepting the changes that where occurring. Her friends from Yoga helped her through some of the very rough times.
Sherron grew up in Georgetown and often said, "how many people can say that they still have their friends from kindergarten" (Carole and Sharin).
Sherron loved fashion and had a keen eye for design and colour. She always wanted to look her best and even at the end, she succeeded in doing so.
She will be greatly missed by her extended family, Bob and Judy Lawday, Paul (the late Barbara) Skinner, Heather, James, Robert and Alley Parker. Her Cousin Tom (Karen) and family as well as her beloved Aunt Tep (Evelyn). Her four-legged friend Maggie will miss laying by her side.
In keeping with Sherron's wishes, cremation has taken place. A celebration of her Life will occur later. In lieu of flowers, donations to the Canadian Cancer Society or the Ian Anderson Cancer Hospice would be appreciated.